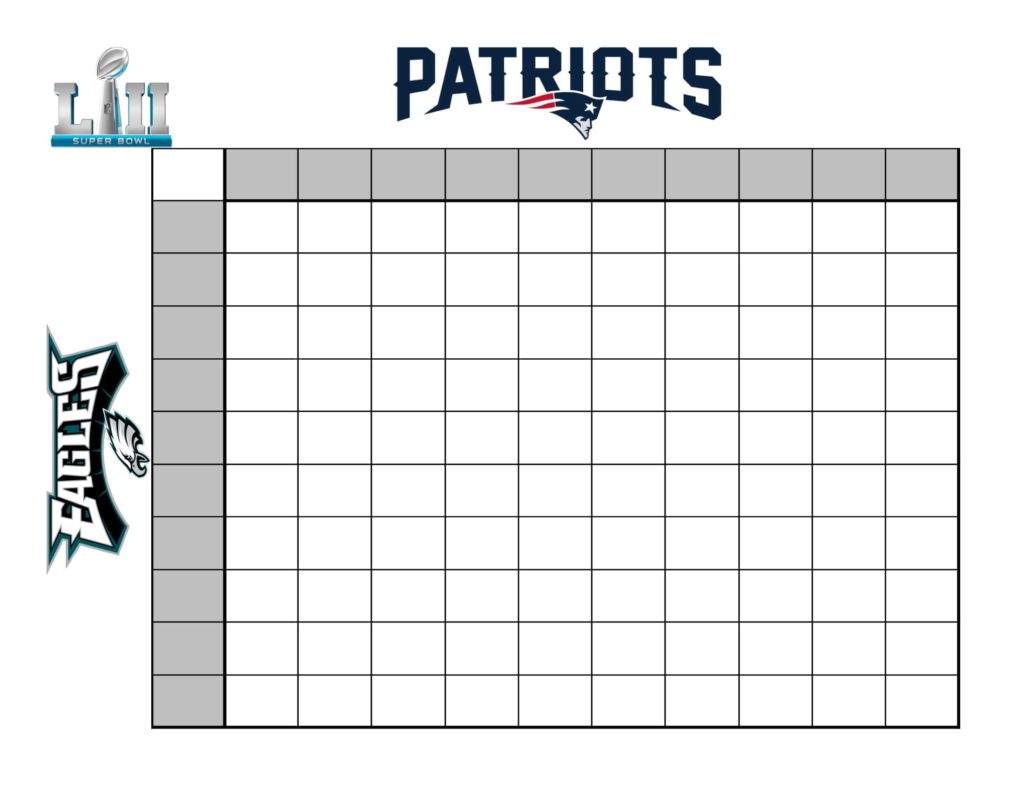 This is a fun, random betting game for a large Super Bowl party. If you're hosting friends and family for a fun Super Bowl viewing party, you'll want to include this as part of the fun. Everyone (even the grandams, aunties, and non-football fans) will rave about how much fun this is. It'll take some convincing at first. But the people who toss $5-$20 into this fun Super Bowl betting game will be happy they did. And your hardcore sports betting friends won't have an advantage. This isn't an over-under bet. You're not choosing sides. It's pure random fun.
How the Super Bowl Betting Chart Works
All the money put in the pot will be distributed by the end of the game. So all $100 that goes in will end up in random players' pockets. This means Grandma might win $15, and niece Lily could be the big winner with $35. Big John might only get $5, and many will win nothing. But when you see you Grandma rooting for a Eagles field-goal in the 3rd quarter because it means she'd win another $5, you'll know you've just upped your Super Bowl Party level to Pro. Here's how to create a fun 10×10 square Super Bowl betting chart that's fun for everyone who plays.
Materials
Poster board
Magic marker (black, permanent)
Deck of cards (or random numbers 0-9)
Basket, hat, or bowl (for the money)
Set-up
Draw lines dividing the poster board into 11 x 11 squares (draw 10 lines horizontal, and 10 vertical).

Pro-tip: Leave a little space on the top and left edge to write the team names. 

Write the team names. On the top edge write one Team Name (Patriots), on the left edge write the other Team Name (Eagles)
Have people 'buy squares' for $1 each. The total pot will be $100 if you fill up the board.

Pro-tip: Try really hard to fill-up the board. Buy all the empty squares leftover for yourself if you have to. If you don't fill up the board it's okay. If an empty square wins, then nobody gets paid. Everyone will be disappointed and maybe they'll buy more squares next year! 😉

People write their names in any of the inside 10×10 squares (it's random). Just write your name in any square. $1/square.

Pro-tip: Fill the squares before kick-off. If people will arrive after kick-off, call them beforehand. Have them commit $5 or $10 to squares and you can write their names in for them beforehand. Remember, it's random anyway, so there's no disadvantage. They could still end up big winners! This is fun for everyone.

Add the numbers to the top row and left column. IMPORTANT: the numbers are filled in AFTER all the names are written in the squares. This keeps it random, and allows everyone to have an equal, random chance of winning. Use the deck of cards to draw random numbers for each square in the top row and left column. Fill them in with numbers 0-9 (yes, include 0). Don't do it in order. Make it random!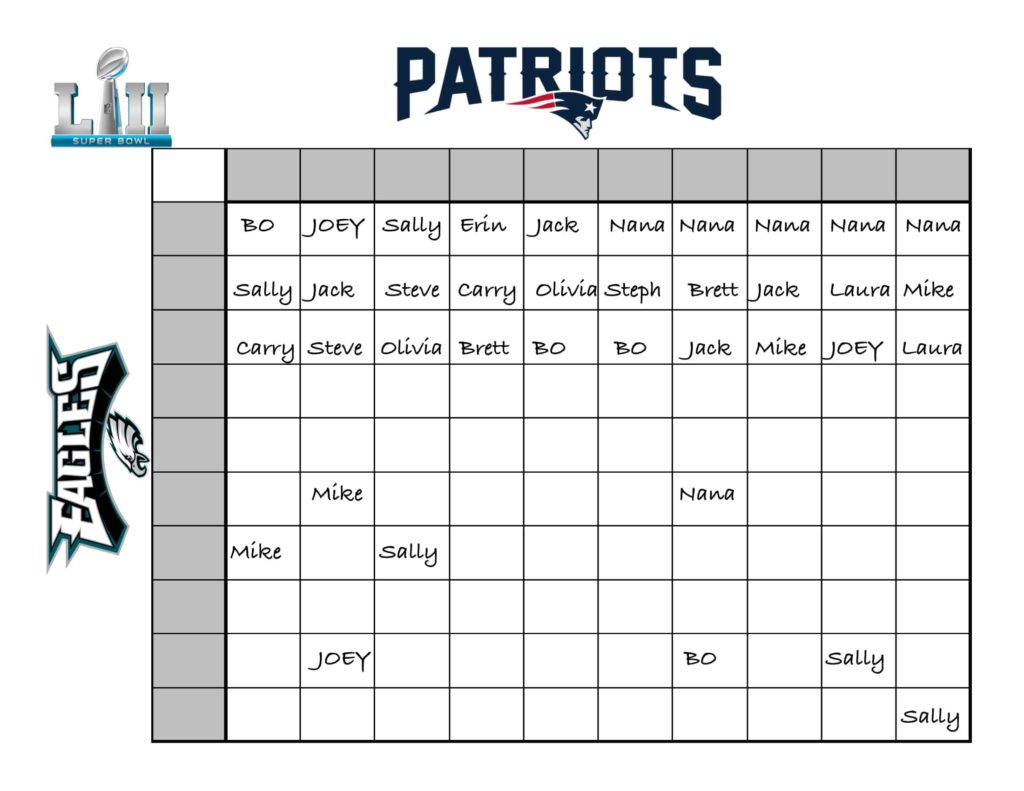 How to Pay Out for the Betting Board
You pay out $5 for every score change. Plus, give $10 for the Half-time score, and whatever is left for the Final score! Use the one's digit of the score to determine the number.
At kick-off, whoever has the square 0, 0 wins $5! Then, when the score changes, whoever has the square for that score wins $5! This happens each time there's a field goal, a touchdown, a point-after touchdown, a safety, or a 2-point conversion. Each time the number changes, somebody gets paid.
Yes, a touchdown should result in two $5 pay outs. Five dollars for the 6-point change (touchdown), and $5 for the 1-point change (PAT)! This way touchdowns are more exciting than field goals. Just like in the game. 
Example Pay Out
If the Patriots score a field goal first (3 pts), then whoever has Patriots 3, Eagles 0 wins $5 (Sally in the pic)!
Then, let's say the Eagles reply by scoring a touchdown (6 pts). Whoever's name is written in the square with Patriots 3, Eagles 6 wins $5.  Naturally, the Eagles will likely kick a PAT (point after touchdown, 1 pt). So whoever has Patriots 3, Eagles 7 ALSO wins $5!
This style of Super Bowl betting pool is fun because many people can win money!  People who may not have been interested in the game become interested when there's a chance that one of their squares might win!
At my Godfather's Super Bowl party, it's always funny to see some old lady (who doesn't usually care about football) rooting for one team to kick a field goal, because the resulting score will win her $5! It's fun for all ages, makes the game a little more interesting, and is not too difficult to set-up! So, create a Super Bowl betting pool for your Super Bowl party and get everybody involved!
Download Large Blank 10×10 Super Bowl Betting Board PDF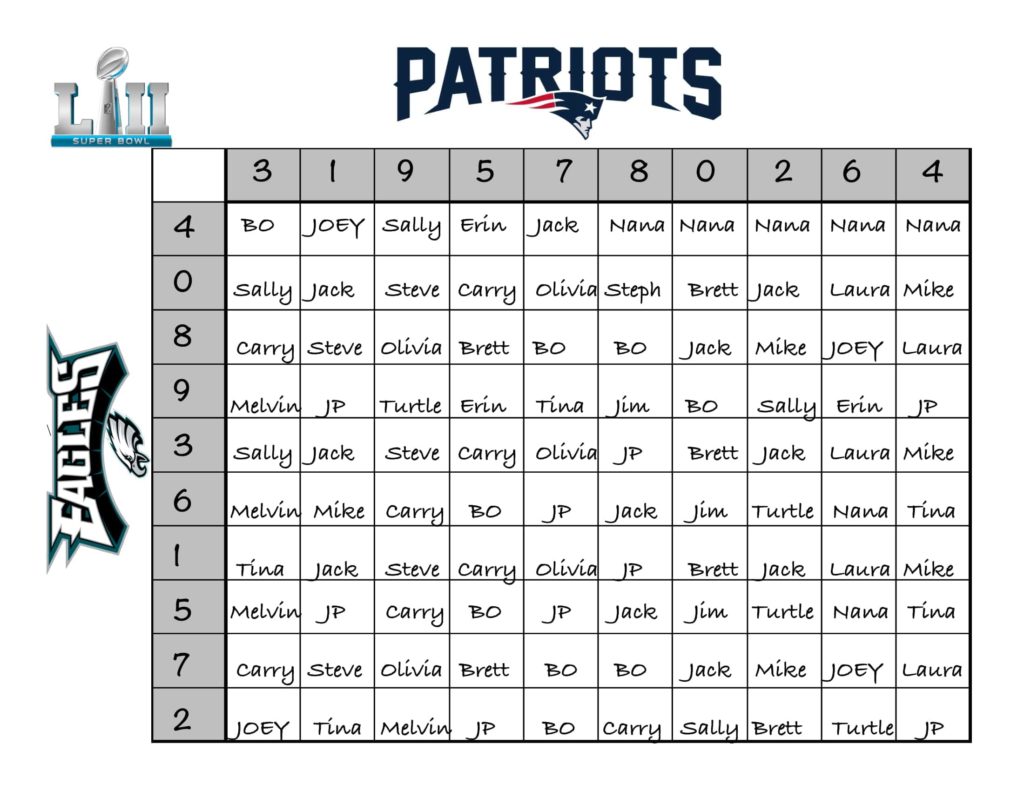 Like this article? Explore more.
Thanks for stopping by. If you like this article, explore some more. I also write about saving money and investing for your future. Come on back after the Super Bowl and I'd love to help you become a millionaire with all your Super Bowl winnings! Oh yeah, good luck and have fun.