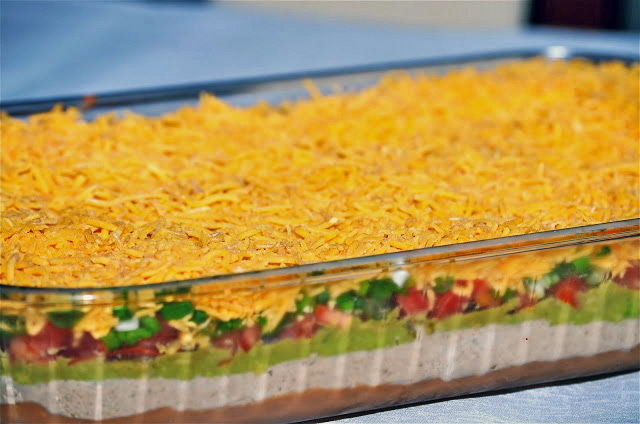 Just like every group of friends needs the friend who usually hosts a Super Bowl Party, you also need the friend who brings that awesome 7 layer dip. If you don't have that friend, now's your chance to guarantee an invite to every 'bring a dish' party your friends throw – become that guy (not "that" guy).
I'm not going to make you "cook" anything. You don't have to do anything other than buy the ingredients and layer them. Literally, I'm going to give you the easiest 7 layer dip recipe that you might actually search this site for more awesome recipes – sorry, I'm not a stay-at-home Dad with nothing better to do. This is the only recipe you're going to get.
Let's get to it.
7 Layer Dip Grocery List
Go buy these things:
Refried beans (1 can)
Guacamole (1 medium tub)
Sour cream (1 medium tub)
Chili beans (1 can)
Tomatoes (1 can diced)
Lettuce (1 bag pre-shredded)
Jalapeños (1 jar)
Shredded 4 Cheese Mexican blend (1 bag)
Lettuce and tomato count as one layer – so that makes it a 7 layer dip (my recipe, my rules). A can of diced tomatoes and pre-shredded lettuce because you don't have time to wash and cut tomatoes and lettuce. But if you do, that would be better. The fresher the better, but I'm giving you the quick and dirty recipe.
Here are pictures of everything you need to buy. If you can't at least do the grocery shopping, then you don't deserve the praise you'll get from showing up to the next Super Bowl party with a tray full of this awesome 7-layer dip.
7 Layer Dip Prep
Grab a glass brownie pan and start layering. It's that easy. I recommend putting them in order of the list above starting with refried beans at the bottom and ending with the shredded cheese on top. The order doesn't matter too much, but refried on the bottom and spreading guacamole second makes things easier.
Nothing needs to be cooked or heated. In fact, you can put it all together the night before and pop it in the fridge. This 7 layer dip is meant to be served cold.
Enjoy the game.