In the summer of 2009, I decided to do a west to east coast road trip across the US. Long story short, my brother, and our girlfriends left for one of the most memorable cross country trips across the States. If you get a chance in your lifetime, you should definitely do a cross country road trip. There are a million paths. Here's the path we chose on our Left to Right Road Trip 2k9:
Left to Right 2k9 – Yellowstone, Mt Rushmore, Niagara
Wed Aug 12th – OC to Vegas, 5 hrs, 1:00pm – 6:00 pm, gamble a little, stay night.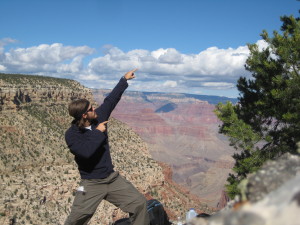 Thurs Aug 13th – Vegas to Grand Canyon, 6 hrs, 9:00am – 3:00pm, hike around canyon, take pictures, see sunset, stay night
Fri Aug 14th – GC to SLC,  8.5 hrs, 11:00am- 8:00pm – stay night, hang out
Sat Aug 15th – SLC to Old Faithful, 6 hrs, 12:30pm – 7:00pm – camp there
Sun Aug 16th – Yellowstone National Park – all day, camp there
Mon Aug 17th – Yellowstone to Billings, MT – 4 hrs, 9:00am – 1:00pm, ride horses
Tues Aug 18th – Billings to Mt Rushmore – 6 hrs, 9:00am – 3:00pm, view Mt. Rushmore, take pictures, camp there
Wed Aug 19th – Mt Rushmore to Sioux Falls, SD – 6 hrs, 11:00 – 5:00pm, hang out
Thurs Aug 20th – Sioux Falls to Milwaukee, WI – 8.5 hrs, 8:00am – 5:00pm, hang out
Fri Aug 21st – Milwaukee to Chicago – 2 hrs, 2:00pm – 4:00pm – White Sox vs Orioles 7:10pm at night
Sat Aug 22nd – Chicago to Cleveland, 7.5 hrs, 12:00pm – 8:00pm – sleep there
Sun Aug 23rd – Cleveland to Niagara, 4.5 hrs – 9:00am – 1:30pm – tour Niagara Falls
Mon Aug 24th – Niagara to NYC, 8 hrs, 9:30am – 6:30pm – dinner in NYC, hang out.
Tues Aug 25th – NYC – Yankees or Mets game
Wed Aug 26th – Sat Aug 29th, NYC
Sat Aug 29th – Maki, Wooly fly from NYC back to OC/LA
Sun Aug 30th – NYC to DC, 5.5 hrs, 11:00am – 5:00pm, hang out
Mon Aug 31st – DC to Hampton, 3.5 hrs, 1:00pm – 4:00pm – dinner with Mom, Lewises, Dentons.
Tues Sept 1st – Shawn drives West back to CA, must arrive by Sept 6th